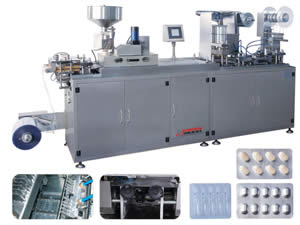 AL-PVC/AL-AL Blister Packaging Machine
Newly launched by our company, the DPP series of AL-PVC or AL-AL blister packaging machine adopts variable frequency speed regulation, control technology of integration of mechanics, electronics, light and gas, and two patented technology. Designed and manufactured according to the requirements of GMP, this packaging machine has passed the EU CE certification. With advanced functions, easy operation and high yield, it is an ideal packaging device for large and medium-sized pharmaceutical companies, health care products and food industry.
Controlled by high-end PLC, the blister packaging machine adopts contact heating, positive pressure molding, air cushion heat sealing and punching without horizontal waste edge. Forming, indentation and punching positions are adjusted by hand wheel. The mold is positioned by dowels and it is convenient to change molds.
The AL-PVC or AL-AL blister packaging machine adopts split design and is thus easy to enter the elevator and workshop. All parts that contact drugs are made by stainless steel or non-toxic materials, meeting requirements of GMP. In addition, this machine has several protection functions, such as host overload protection, automatic fault diagnosis and alarm, automatic shutdown protection, etc.
As a specialized AL-PVC/AL-AL blister packaging machine manufacturer in China, Jiangnan Enterprise also offers high speed blister packaging machine, automatic strip packaging machine, horizontal cartoning machine, and more.
Related Names
Bubble Packer Manufacturer | Pharmaceutical Packaging | Packing Machine | Packaging Machine