With beautiful appearance, high efficiency, low power consumption and other advantages, the high efficiency tablet coating machine can make organic film, water soluble film and sugar coating for various tablets, pills, candies, etc. Widely used in pharmacy, food, biology and other areas, this machine has been exported to Southeast Asia, Australia, Europe, Middle East, South America and other regions.
The tablet core keeps doing complex motion inside the clean and sealed rotation drum. After mixed by the thermostatic mixing drum, the coating medium is sprayed over the tablet core through the spray gun. Clean hot air supplied by the hot air cabinet passes through the tablet core and is later discharged from the ventilation door, which makes coating medium dries quickly and forms a solid, dense and smooth film on surface of the tablet core. The whole process is completed under the control of PLC.
The high efficiency tablet coating machine is equipped with automatic feeding and discharging device, which is convenient and efficient and prevents cross contamination. Under the action of streamline guide plate stirrer, the tablet core moves smoothly and frequently, which eliminates the phenomena of falling from high places and collision, solves the problem of fragments and cracked edges and improves yield. The narrow upper surface of the guide plate prevents auxiliary materials adhering on it, which saves auxiliary materials and improves product quality.
Specifications
Item/Model
BG600E
BG400E
BG150E
BG80E
BG40E
BG10E
Load Capacity
600 Kg
400 Kg
150 Kg
80 Kg
40 Kg
10 Kg
Rotation Speed of Cartridge
1.0-12RPM
1.0-13RPM
1.0-16RPM
1.0-19 RPM
1.0-21 RPM
1.0-25 RPM
Host Power
4Kw
3Kw
2.2 Kw
1.5 Kw
1.1 Kw
0.55 Kw
Diameter of Coating Roller
Φ1580mm
Φ1580mm
Φ1200mm
Φ930mm
Φ780mm
Φ500mm
Motor Power of Air Exhaust Cabinet
11 Kw
7.5 Kw
5.5 Kw
3 Kw
2.2 Kw
0.75 Kw
Flow of Exhaust Fan
15450 m3/h
1000 m3/h
7419 m3/h
5268 m3/h
3517 m3/h
1285 m3/h
Motor Power of hot air cabinet
4 Kw
2.2 Kw
1.5 Kw
1.1 Kw
0.75 Kw
0.37 Kw
Flow of hot air machine
6500 m3/h
3517 m3/h
2356 m3/h
1685 m3/h
1285 m3/h
816 m3/h
Host Weight
1600 Kg
1000 Kg
850 Kg
600 Kg
500 Kg
200 Kg
Clean Air
Pressure
≥0.4Mpa
≥0.4Mpa
≥0.4Mpa
≥0.4Mpa
≥0.4Mpa
≥0.4Mpa
Air Consumption
2 m3/min
1.5 m3/min
0.7 m3/min
0.35 m3/min
0.2 m3/min
0.2 m3/min
Easy to operate, the imported spray gun is able to work under the shooting pressure of 0.29-0.39Mpa and atomizing pressure of 0.4-0.5Mpa, which prevents dripping and clogging. With adjustable flow, angle and fan, the spray gun yields uniform atomization and large spray surface.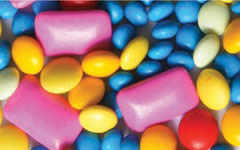 A special mechanical device is mounted inside the high efficiency tablet coating machine, which can be controlled to coat small amounts of tablets without wasting auxiliary materials. In addition, an automatic cleaning system, including a high-pressure spray gun inside the coating pan and cleaning nozzles in exhaust outlet and air inlet, is optional. The spray gun can rotate 180 degree and the cleaning nozzles are able to rotate automatically in all directions, making cleaning more convenient and complete.
Major components of this high efficiency tablet coating machine are described below.

Exhaust Fan
Equipped with a damping device, the exhaust fan is used to pump air out of the host drum and keeps the working area under negative pressure. It has a dedusting function, which can prevents the remaining power flying and automatically removes dust. An anti-reflux device is mounted in the exhaust port, which can prevent the backflow of exhaust gas in the exhaust pipe when closing the exhaust port before shutdown.

Hot Air Cabinet
Inhaled by the centrifugal fan, the air is filtered to reach air purification level of 10862,42000 and blown into the host drum through the heat exchanger (steam or electric). An initial air filtering device is added in the air-collecting port of the hot air cabinet, which better meets the requirements of GMP.

Spray System
The spray system makes it easy to coat tablets, which greatly reduces coating time and improves work efficiency. There is no dust flying and no syrup splashing during the working process, ensuring little cross contamination of tablets. Due to the adoption of new microcomputer control system with programmable function, floe, negative pressure, temperature, rotation speed, air-intake volume, exhaust volume and other technological parameters can be adjusted automatically, digitizing SOP and ensuring little difference between batches of goods. Data storage and printing functions are also added, enabling process flow and parameters of production of each batch to be recorded accurately.
Jiangnan Enterprise is an experienced high efficiency tablet coating machine manufacturer and supplier in China. We provide various types of products such as high efficiency laboratory tablet coating machine, high efficiency poreless tablet coating machine, and high speed blister packaging machine.
Related Names
Tablet Coater Supplier | Pharmacy Automation | Film Coater | Film Coating Machine | Coater